We Solve More Anxiety Issues Than Psychologists Do
Posted on 03
th
, Jul 18
When you lose your house, or car keys, what you can lose is your security with it. The same mistakes have been made throughout our life. For centuries, our homes, in particular, have been our sanctuaries. The one area where we find the refuge the world struggles to offer us.
Value – we can't wait to deliver to you
AMCO Locksmiths has been serving the residents of Perth for the last 15 years. We have earned their respect by delivering exceptional value, at a cost we have always striven to keep well below it.
Our customers regard our people and our service because of the promptness, the courtesy and care with which we deliver it.
Whether you've been locked out of your home, or car, at 2pm or 2am, all you have to do to get back in is call our 24X7 emergency lockout line. Our people are already in our vans- and revving to come to you, so they can unlock your doors for you.
We know what you want – assurance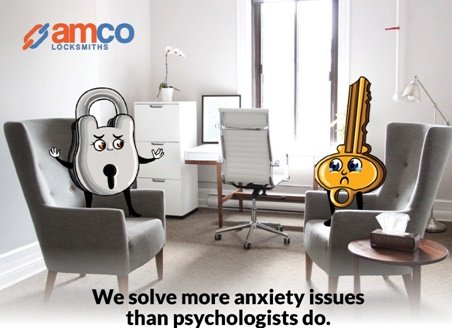 We have an army of qualified locksmiths and apprentices (our apprentices accompany our experienced tradesmen until we are confident they are able to operate on their own) working for us.
Every one of them has a trade certification, a police clearance check and a blue card which is essential to being in a locksmith in Perth.
Our customers want assurance not just a duplicate key or their locks opened for them. We deliver this to them through experience, promptness, courtesy and care that are the hallmarks of nour service and have been for the last 15 years.
We open locks, we also install them – and at a very reasonable price!
Sometimes, you don't need to open locks, you need to install them. We also do that.
At AMCO Locksmiths, we install door locks, screen door locks, window locks, garage locks, gate locks and more. All the locks we work with and install, adhere to industry certifications and standards and provide the safety and security, we know our customers demand and expect from us.
We are not satisfied until our customers are
The truth about our customers is we want referrals from them as well. Referrals are very powerful, and we have used them to grow our business very successfully, making it the number one locksmith service in Perth.
To ensure we get good referrals, we leave no stone unturned to ensure the customer we serve is satisfied. We pick up our phones quickly – generally, within a few rings, listen effectively to our customers, no matter where in Perth they are, and dispatch an available locksmith who has the necessary experience and qualifications to solve the problem our customer has at hand.
To reach us, please call 08 9444 2089 or use our online booking order form which you can access here clicking 'submit an enquiry https://amcolocksmiths.com.au/residential-locksmiths.
Content author: Clixpert Digital Agency
Locksmiths Jobs
Share This Blog