GET INSTANT QUOTE
WHAT CAN WE HELP YOU WITH?
Back
A premiere Locksmith in Stirling, Perth, AMCO Locksmith has been installing, maintaining and replacing best in class security systems since the early 2000's.
We offer competitive pricing and innovative solutions on a wide variety of locksmith services. With a proven track record of efficient and dependable response, we specialize in all three aspects of life. The Home, the office and your automotive.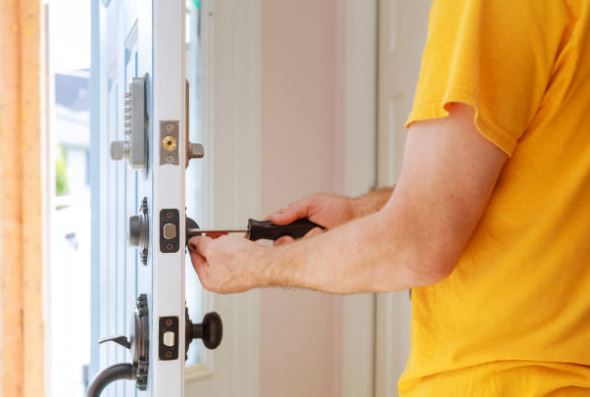 For prompt and affordable locksmith services, call us on 08 9444 2089
Whether your specific job requires residential, commercial, automotive, or safe related products, we offer the latest in terms of both technology and durability that the market has to offer at reasonable pricing.
Be it electronic locks, closed circuit systems or programming your faulty remote car keys. We strive to keep our prices reasonable and competitive while maintaining strict quality standards.
Trained and Licensed Locksmiths in Stirling
All our employees are certified professionals with a four-year apprenticeship in Locksmithing, as well as hold a security license and Blue card, operating under the code of ethics set by the Master Locksmiths Association of Australasia (MLAA) as well as our own, to prioritise your satisfaction and confidence.
So if you've misplaced your keys or need to have a security system installed, you can rest assured on it being done reliably and properly.
Not just a locksmith, but a team of certified professionals, we offer fast turnaround time and guarantee quality services in Stirling. Our professionals are certified, bonded and insured and arrive at the locations of our customers ready and equipped to complete their needs.
Why Choose Us?
When you hire a reliable locksmith in Stirling who is licensed, bonded and insured, then you can rest assured that your property is in safe hands. Such professionals, after a brief inspection can determine whether the existing lock needs to be repaired or replaced.
We design a system, keeping in mind your major security concerns and ensure that your valuable space is protected from burglars and intruders. Our response times are lightning fast, and we can rush to your aid within minutes. 
AMCO services in Stirling contribute a lot in terms of maintaining an environment that is safe and secure for everyone. Our Mobile Service units are always on stand-by. This twenty-four-hour service to customers negates the need for you to panic and manage a lockout situation/ broken lock yourself.
Services We Offer
We offer residential, commercial and automotive services, such as:
Lock repairs
Lock replacement
Deadbolt installation
Security door installation
Window lock installation
Access Control system installation
Master key system installation
Safe installation
Safe repair and opening
Transponder keys
Digital lock installation
Smart lock installation
Key duplication
After Hours Locksmiths in Stirling – Our Customers Are Our Priority
Quoting one of our customers, Kevin Alkimos when asked about Dan, our service professional, "He (Dan) was very prompt, polite and friendly and fixed our front door lock very quickly. The new keys were cut and given to me on the spot which was really convenient. I would definitely recommend this service."
Our commitment as the best group of Locksmiths in Stirling is to provide the state of the art protection for your building or vehicle at reasonable prices. This requires customising your protection whilst exceeding building regulations and industry standards.
The net result is a security solution fortified by a solid line of defense that complements its constituents rather than a system that merely looks pretty. No matter whatever your security concerns, AMCO Locksmiths, Stirling have an intelligent and professional solution.
When Do You Need to Call Us?
Many people are wondering whether or not to hire a locksmith. But unfortunately, they only consider calling one when locked out of their home or vehicle. 
However, there are various instances where you may choose to seek assistance. Here are a few situations in which you should contact a professional locksmith.
Keys Are Missing or Broken
A common reason for contacting a locksmith is losing your keys. You may lose them in different ways, like accidentally dropping them in a parking lot. Although you can look for it, the worst-case scenario is that it is utterly gone.
Whatever the circumstances, locksmiths can help you right away by making you a new key. Moreover, we are well-equipped to create a new key for you in a short amount of time.
Another common reason is if you break a house or car lock. You should never attempt to remove the key by yourself in this situation because it could permanently damage the lock and make it impossible to use it again.
Contact Amco Locksmiths to get it professionally removed. Hiring us will also save you money if further damage occurs.
Issues With Locks
If your lock is damaged or broken, you should contact a locksmith. It occurs for a variety of reasons. Wear and tear, for example, can occur with aged locks over time. Therefore, it is best to call a Amco Locksmiths instead of attempting to fix it yourself.
Locksmiths can replace an outdated lock without modifying the door or frame. We are skilled specialists who know how to operate locks and keys properly.
Emergency Lockout
There are several reasons why you may find yourself locked out. Most are caused by something as simple as leaving your keys inside or losing them entirely.
If you have locked yourself out of your house or car, you should contact a locksmith immediately. A trained locksmith will have all of the tools necessary to open any lock quickly and safely. It includes both high-security and smart locks.
Moving Into a New Home
If you are moving into a new property, it is crucial to know who has access to it and whether or not the keys work. But, unfortunately, you also don't know how many duplicates the previous owners might have.
They must have also distributed a copy to friends and relatives. It is preferable to change the locks. So no one will get access by using an outdated copy of the key. In this case, call us immediately.
Someone Has Broken Into Your Property
Keep in mind that a break-in can occur at any time. If you see any indicators of attempted break-ins at your home, you should call a locksmith. We can inspect the damage and advise on any necessary repairs. 
A locksmith can visit your home and replace all of your locks. We aid in restoring your sense of security on your property.
New Construction or Renovations
When you have new construction or renovations done on your property, hiring a locksmith is smart. We can assess whether we can re-key the current locks on the doors or replace them as needed. 
The wrong individual might obtain entry to your property in any construction project. A contractor will have access to the residence. You also have no idea who could have come into contact with the locks and keys during construction.
You want to ensure that no unauthorized person visits your property. Therefore, any new locks may be re-keyed by a locksmith to guarantee that only you have access to your property.
Frequently Asked Questions (FAQ)
Can Locksmiths Make a New Key?
A locksmith can make you a new set of keys. They are equipped with the appropriate tools and knowledge for this.
Can a Locksmith Open a House Door?
A skilled locksmith will be able to open or unlock any door on your property using specialised and innovative tools.
Can a Locksmith Open a Safe?
A locksmith can open the safe for you without any problems in most circumstances.
Are Locksmiths Reliable?
Locksmiths are reliable since they are skilled professionals who know what they are doing. They have received training and have great expertise in the field.
Call Us Now on 08 9444 2089 or Contact Us Online at info@amcolock.com.au